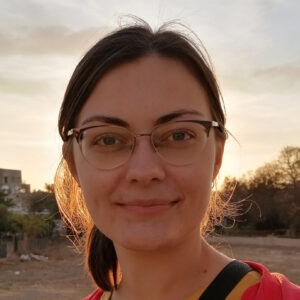 Liubov Pilshchikova
ESR11 (TUDELFT)
Liubov started her research on 1 February 2022 in the faculty of Technology, Policy, and Management at TU Delft. She is, also, a part of the Open Data Research Lab in her department of Engineering Systems and Services. Liubov is researching non-profit organisations as intermediaries in the open data ecosystem. Specifically, the roles they take as intermediaries and activities they perform to influence the barriers that users face when trying to (re-)use open data. Such activities include the re-use of open data to create a changed open dataset/tool/report, or the organisation of training/community meetings related to open data and their re-use.
As part of her research, she conducted a systematic literature review titled "How do Non-profit Open data Intermediaries enhance Open data Usability? A Systematic Literature Review" that she presented at the 18th International Symposium on Open Collaboration in Madrid, Spain in September 2022.
She has started her first secondment (a case study) with Open Knowledge Belgium – a non-profit organisation that focuses on opening up knowledge in Belgium for it to be used and useful. Several interviews have been already conducted with more to follow.
Beneficiary: Delft University of Technology (NL) 
Title Research project: Investigating the influence of resources provided by NGOs on the usability of open government data
Daily Supervisor: Anneke Zuiderwijk-van Eijk
Academic Secondments: KU Leuven (BE) 
Professional Secondment: Open Knowledge Belgium (BE)
BA (Hons) in Economics & Sociology 
MSc in Data Science (Social Analytics)